FUCHS LUBRICANTS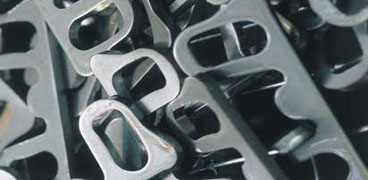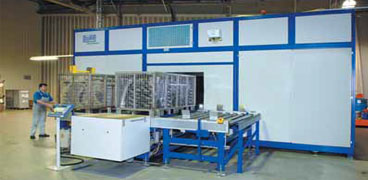 FUCHS LUBRICANTS (INDIA) PVT LTD is a wholly owned subsidiary of FUCHS PETROLUB AG, Germany, the world's largest independent lubricants manufacturer. Founded in 1931, FUCHS today is a group with global reach and customers in 120 countries. Among independent companies, FUCHS is a significant producer of automotive oils with more than 10,000 products. It is the world's largest supplier of industrial lubricants as oils, greases and fluids.
Its extensive range of core program lubricants, besides tailor-made products, enjoys leadership position in most segments like automotive, cement, steel, mining, engineering and other industries. Besides its research and manufacturing capabilities, it has comprehensive consultancy and service capabilities in the field of lubricants
FUCHS LUBRICANTS (INDIA) OFFERS FUCHS' global package of innovative products, interactive technical support and specialized customer service in India. It is an ISO 9001:2008 (Quality Management System) and ISO 14001:2004 (Environment Management System) certified company.
Headquarters in Mumbai, it has regional offices in Delhi, Kolkata, Pune and Chennai. The production plant is located in Ambernath near Mumbai.
The overall Indian sales activities are divided into four division:
First is the "INSTITUTIONAL Division" which offers lubricants for hundreds of applications including lubricants for the steel industry, machinery, construction and building trade. Lubricants for metalworking and metal forming industry are offered too.
Second is the "LUBRITECH Division". LUBRITECH stands for "LUBRIcation" and "TECHnology". For more than 60 years, FUCHS LUBRITECH has concentrated on the development of high performance and special lubricants for all industrial applications.
Third is the "OEM Division". OEM stands for "Original Equipment Manufacturer". This division develops and manufactures lubricants for OEMs like vehicle manufactures including passenger cars, motor-cycles, commercial vehicles and auto component manufacturers according to their requirements. The fast growing automotive and truck sector and agricultural equipment industries are main fields of focus. The product range comprises first fill and products for in-use servicing.
Fourth is the "MINING Division". FUCHS' detailed knowledge of the mining industry has developed an unsurpassed comprehensive range of specialized products and technical services. Designed specifically to meet and exceed the lubricant requirements demanded by mining machinery utilized for high productivity, high efficiency mineral extraction both in surface and underground operations.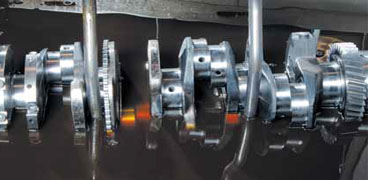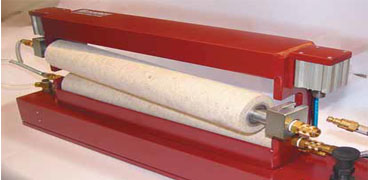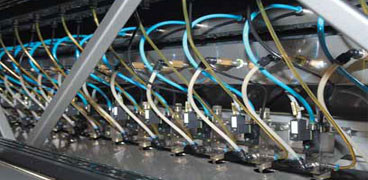 MANUFACTURING PLANT AT AMBERNATH (MUMBAI):
The state-of-the-art plant in Ambernath near Mumbai is built on a plot size of 40,000 metre square. It started production end of the year 2010. The current production capacity is 20,000 tons per year per shift. Due to the modular architecture of the plant, the capacity is easily expandable. The plant also has eco-friendly features like its own waste water recycling plant and stringent pollution control system. The product range includes oil, solvents and water miscible products and greases for e.g. automotive and industrial lubricants.
FUCHS LUBRICANTS (INDIA) PRODUCTS:
RENOLIN AND RENISO (INDUSTRIAL LUBRICANTS)
Comprehensive range of hydraulic, gear and industrial oils formulated from extra clean mineral/synthetic base stocks and synergistic additives for optimum performance tailored for a wide range of standard and niche applications.
RENOLIN (HYDRAULIC OIL)
RENOLIN F 12/15
RENOLIN F 32/46/68/100
RENOLIN F 150/220/320/460
RENOLIN B HLP 32/46/68/100
RENOLIN MR 3 VG 10
RENOLIN MR 46/68/100
RENOLIN B HVI 46/68/100
RENOLIN CLP (GEAR OIL-MINERAL)
RENOLIN CLP 46/68/100
RENOLIN CLP 150/220/320/460/680
RENOLIN PG/UNISYN (SYNTHETIC GEAR OIL)
RENOLIN PG 150/220/320/460/680
RENOLIN UNISYN CLP 220/320/460
RENISO-REFRIGERATION COMPRESSOR OILS
RENISO KCI 32/46/68
RENISO SP 46
RENISO PAG 46/100
RENEP - SLIDEWAYS OIL
ECOCOOL, ECOCUT, RATAK (METALWORKING FLUIDS)
World renowned range of high performance metalworking fluids including anti-mist, low evaporation cutting oils and synthetic specialities designed for all types of ferrous and non ferrous applications. Wide applications like cutting, drilling, milling, grinding, honing etc.
RATAK (SOLUBLE CUTTING OIL)
RATAK MK 3M
RATAK MK 3 SE
RATAK SOLUBLE 10
RATAK SOLUBLE 10 SS
RATAK MEP (SEMI SYNTHETIC)
ECOCOOL (SEMI SYNTHETIC SOLUBLE CUTTING OIL)
ECOCOOL SOLUBLE 30
ECOCOOL 600 NBF-C
ECOCOOL CF2-L
ECOCOOL 4807
ECOCOOL 1030 S
ECOCOOL (SYNTHETIC SOLUBLE CUTTING OIL)
ECOCUT/RATAK (NEAT CUTTING OIL)
ECOCUT HFN 10 LE
ECOCUT 628
ECOCUT 715
ECOCUT 628 B
ECOCUT 628 SF
ECOCUT 715/732
ECOCUT HFN 5/10/16
ECOCUT HFN 5/10/16/32 LE
RATAK MN 200
RATAK MSN 121
RATAK MSN 321
RATAK MSN 322
RATAK MN 201
RATAK HFN 15 B
RENOFORM (METAL FORMING LUBRICANTS)
Internationally proven metal forming products for drawing, extrusion and forging as well as cold/hot rolling of ferrous and non ferrous metals.
RENOFORM MZAN 51
RENOFORM MZAN 54
RENOFORM 51 NF
RENOFORM MF 10
RENOFORM MF 10 M
RENOFORM 640 – 33
RENOFORM FW 9
RENOFORM 319 FM
CLEANERS/ DE-GREASERS
RENOCLEAN S
RENOCLEAN L 4160
RENOCLEAN SUPER
RENOCLEAN SK 77
RENOCLEAN SPO
ANTICORIT (CORROSION PREVENTIVES)
State-of-the-art corrosion preventive products and prelubes of outstanding quality formulated after intensive research and active interaction with some of the world's most demanding OEMs and industrial users. It exhibits superior performance and provides reliable protection to metal surfaces of machineries, tools and components. It is easily to apply and remove.
ANTICORIT 02 WC
ANTICORIT RP 4107 S
ANTICORIT RP 4107 LV
ANTICORIT RP 4107 LI
ANTICORIT BW 366
ANTICORIT MKR 8
ANTICORIT MKR
ANTICORIT DFW
ANTICORIT DFW 15
ANTICORIT DFW 30
ANTICORIT DFW 310 IP
ANTICORIT DFW 320 IP
ANTICORIT LRC 123 V
ANTICORIT OHK 360 A
ANTICORIT RP THIX 120
TITAN (ENGINE AND GEAR OIL)
Premium range of automotive lubricants including engine and gear oils for four wheelers, two/three wheelers and off highway earthmoving and industrial equipment besides a vast range of functional specialities for diverse automotive applications.
Engine oil
TITAN HDC EXTRA SAE 30
TITAN HDC EXTRA SAE 40
TITAN HDC PLUS SAE 20W40
TITAN UNIVERSAL HD SAE 15W40
FUCHS GENSET 15W40 [CF4/SG]
GEAR OILS
TITAN GEAR SAE 90
TITAN GEAR SP SAE 90
TITAN GEAR SAE 140
TITAN GEAR EP SAE 140
TITAN GEAR LS 90*
RENOGEAR HYPOID 85W90
TRANSMISSION OILS
RENOLIT (GREASES)
A wide range of commodity and speciality industrial & automotive greases conforming to the best international standards. Fuchs offers a comprehensive grease product line giving optimal solutions for a wide variety of applications including vehicles, mining and construction machinery and agricultural equipment.
RENOLIT MP 3
RENOLIT EP 2
RENOLIT MO 2
RENOLIT CXI 2
RENOLIT DURAPLEX EP 2
RENOLIT LK-PEP 3
RENOLIT HLT 2
RENOLIT LZR 000
RENOLIT SF 3-078